Oh how we are PRO silver shoes! We'll never say it enough, it's the easiest way to make extraordinary an ordinary outfit. Because we hate desperately long morning sessions of staring at our wardrobe and wondering where to start, we love that there's a pair of pretty shoes to grab quickly and immediately pimp anything we're going to wear.
Silver goes with all those neutral colours we like wearing on a daily basis: dark blue, black, grey, beige and different shades of denim. It also loves pastel shades and counterbalances their lovey-dovey side.
And it's a material – more than a colour, no? – that loves getting rattled and battled with other styles. Press your silver against ethnic style pieces (a seventies top, american indian embroidery, a vietnamese top), and bam, you've completely updated them. Try them with your sailor top for a match made in heaven.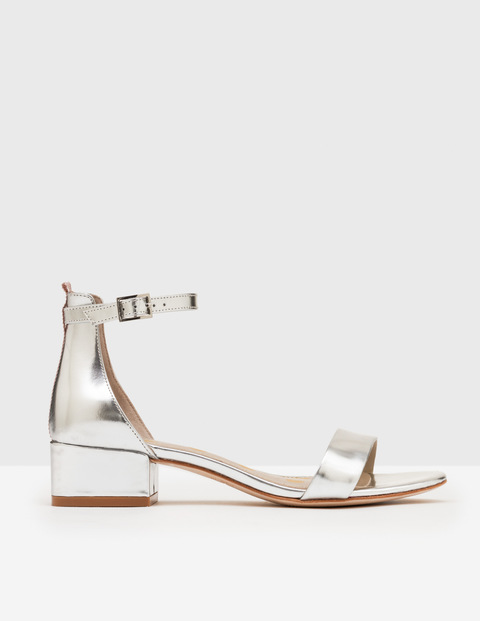 Prefer "mirrored leather" for a real shiny silver. It's the most modern version too. You could go for the full glitter version, kind of 2016, more festive but harder to wear except if you're a brave soul (bravo). What's the worst that could happen?
Here is a small guide to different ways of wearing
Super duper easy. Just a pair of jeans and a grey boyish top. Can you see how this look would be a bit BLA without those silver trainers?
Also super duper easy, summer version this time. We like the contrast between bohemian scarf and silver sandals.
A pair of boyfriend jeans, a suit jacket/blazer (loose or structured, up to you according to what you prefer!) and a t-shirt. The bonus? You'd almost not need to do your hair!
Silver works even with very coloured looks. It actually kind of calms the onset of colours and answers the question "dang, what colour am I going to wear with my red dress, my yellow trousers, my pink suit?" (yes, some people need to ask themselves those questions, and you should try to be one of them. Just try!).
It's actually easy. When you don't know what shoes to wear with an outfit, go for silver shoes. It ALWAYS works.
For the bravest among you, go on and try the silver ankle boots. It might be more suited for winter, but here is a cool example for summer.
What if you showed up at the altar in silver derbies? What we're trying to say is, silver loves white. And totally disinhibits it.
Pale pink, ivory, beige: all these colours can have trouble finding shoe that fits! Silver brings them the rock and roll touch they were missing.
For the trendiest and bravest among you, yes, you can dare to go for a silver piece assorted to your silver shoes. To counter it, add a solid piece (easier): fom khaki to red through to black.
Here is an interesting look, falsely classic: a white shirt, a pleated skirt and a pair of silver heels. Imagine this look with a suit and shirt, not bad ey? This is probably the easiest way stylistically fail-proof wearing silver high heels.